Müller Martyny i Inne Maszyny | 21.07 - 18.08.2023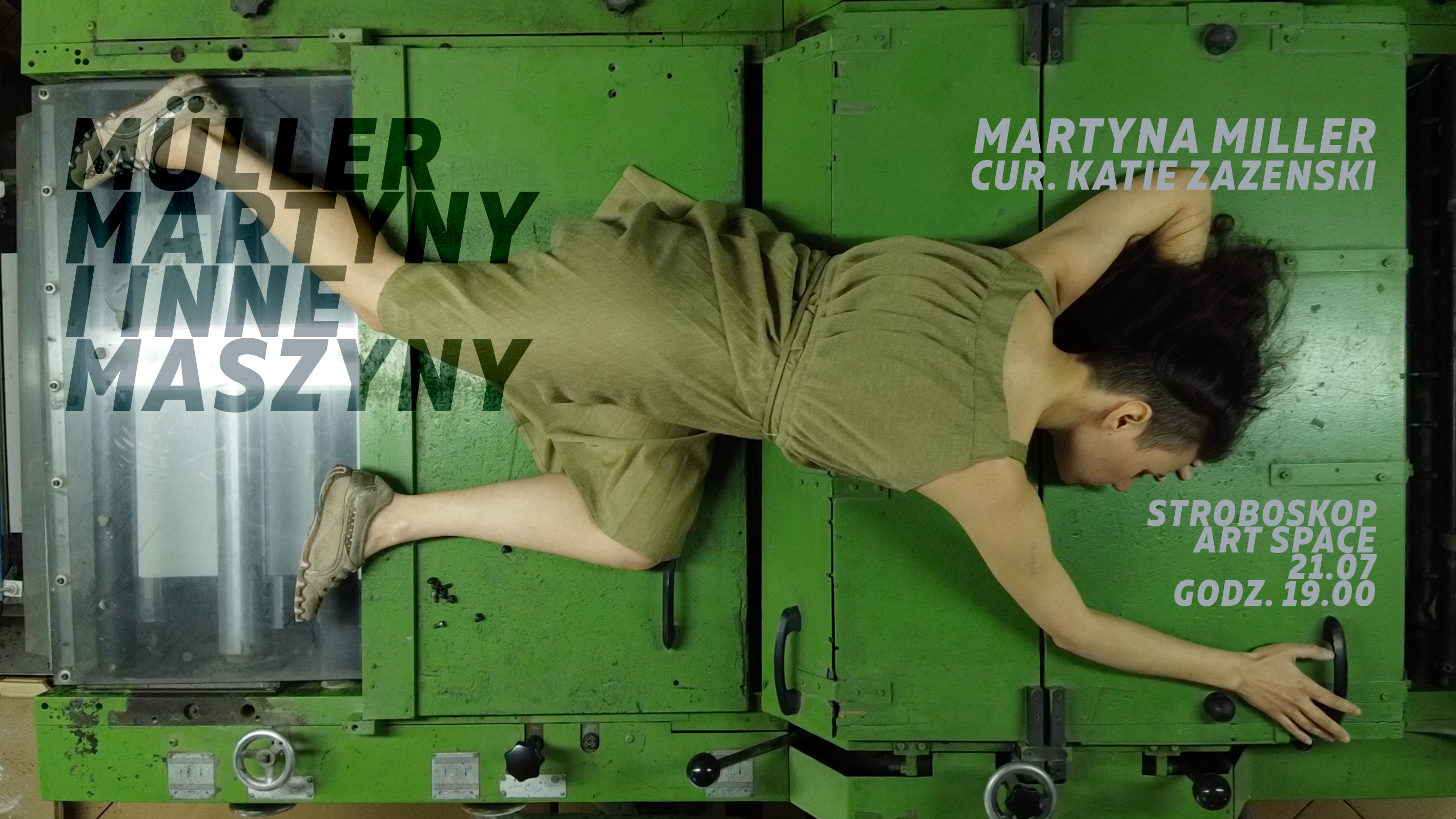 Müller Martyny i inne maszyny (Müller Martyny and other machines)
July 21 - August 11
Vernissage Friday, 21.07
19:00 - 21:00

For the installation at Stroboskop, Martyna Miller returns to moments where she has experienced a loss of control, to explore the mechanisms that for years have destined her to involuntary repetition. Road accidents, relationships to machines in her husband's factory, periods of living in a car; these are some of the memories she draws from when building this exhibition, and what have inspired her need to go deeper. Working with her personal archives, she has created an external landscape that goes into the depths of the body, its various states and ontologies, as a way of processing the trauma that has come to live within her own body and mind.


A performative reading of the following text (in Polish) will occur during the opening, for those who join independently, we provide a reading by the artist in both Polish and English.





The story begins with a phone call. A phone call in the car. I don't remember where it was. 2018. Sunny day. Blazej is listening to overdue messages on the speakerphone system. Suddenly a strong male voice, with an exotic accent, but also sounding a little German, comes out of the noise and asks in English: "You have, I want, I buy, Muller Martini." We looked at each other: me with dismay, Blazej initially puzzled and evasive. A business transaction, we sold the machine.

Various thoughts ran through my brain in a rush, as if holding my body frozen and motionless. Body-stone, body-steel in an inner trembling, piercing, nuanced sense of loss and shock. After a moment, the recording ended, and Blazej laughed nervously, seeing that reality had momentarily bent into a grotesque, absurd spiral. All it took was a moment and I was that machine.

I had entered a state I knew very well. Tame to the point of basically informing me that I am still alive. I am alive as a thing, or rather a mechanism whose functions overpower me, putting me in motion and stillness at the same time. The broken chain, the seized engine, the overheated wiring, the forced transition to rest. Limbo of severed nerve connections, tingling in the muscles, concrete under the skull.

My daily life. To distance myself from the body, its sensations, to immobilize, to survive. Immune to pain, fatigue, lack of comfort. To never know safety. To merge love with violence, abuse with attention, presence with effort, sunshine with struggle. To continually seek non-existent solace. Like a lizard in the sun, which only a moment ago seemed to relax, but in reality feigns absence, annihilates itself, simulates death. Effectively.

A mechanism practiced for so long that it becomes the principle function, the basis of feeling, the foundation of relationships. In solitude, often not even felt. Perfectly fused with my entire world.

After looking out the window from the dead Honda, when I stood on the street in the rain, I felt nothing. I shook myself off like a dog after a bath and moved on as if nothing had happened. Seemingly nothing, but life involuntarily speeds up. A concert, Leipzig, a late return, a wedding, a friend's funeral in Sarajevo, sleeping in his room where we shot my first film. Everything happened in the next two weeks. Like an animal that, when faced with a traumatic event, runs and shakes off the stress at speed until the stress is gone.

Over time, unable to come to terms with the ease with which I put down my machine - my refuge, my only imaginable possession, my only relief from the web of uncontrollable dependencies that was consuming me - I found and dragged the car's molt behind me. I found it in my dreams. And I drag it to this day.

Together with the machines, our hearts break. They are the first to realize that there is no clear boundary between them and us. We are a mechanism, a constellation, a chemical solution, we are water. Is the car water? The car and water is an overly dramatic scene, a movie scene, or maybe kitsch. The car falls into the water and slowly descends, it's very funny. A picture of helplessness. However, if the montage reveals what happens inside, we see the horror of the sinking and panic.

But when we think of a detail, such as a tube that sets something in motion, then water will transform it into an image of power, a vital vein. It will be a story of flow, rhythm, pace, pulse and sound that brings it all to life, to action. Fluids, networks, veins, batteries. The engine. The motor, the motivation, the speed. Speed is a weapon, defensive and offensive at the same time, unnatural, supernatural, turning over guts, making bodies jittery, intensifying fear, but how it accelerates dreams, how it makes, reaches, how it brings the idea of freedom closer.

Then there is the question of product, production or use, which also includes such categories as symbiosis, prosthetics, and further support, armament or spoilage. Usefulness and obsolescence, utility and life. Not questions of power, but questions of scale and the possibility of cooperation, of intent.

Then there is the question of ecology. At the consumption level, the calculus is simple. At the level of production, both machines and people are apex predators - we can destroy and build, use or consume, enliven. We are everywhere and there are a lot of us.

It seems that currently machines strategically have an easier and more effective way to educate, or at least public attention is shifting towards observing not humans, but machines. They are the ones who realize the well-known and close to me utopia of collectivity, reciprocity and knowledge transfer. Moreover, they are not burdened with familialism, and can desire indefinitely.

While we operate in endless systems, we are them, we create them. I would like for myself, to stop opposing them, and to embrace them. Regaining control is an arduous and thankless process, at every step unconditional reflexes, habits heavier than the ruins of the family home. The mechanism is active like a virus, I am constantly looking for tools to handle it.

Issues of body and matter are not separate. When you feel water, everything is flowing, drifting carried by the endless movement of the waves. And then you want to hold a stone, throw an anchor. When you lose so much, what you find, you want to take to the grave. Thus I create it for myself here and now. Each piece becomes a mirror, each crack a scar that I must take care of. A scar similar to mine from the abdomen, breast, arm, from the knee, elbow, chin, from under the skin and from the epidermis, which over the years has acquired special defensive properties: it reacts to every touch, to every stimulus with a reaction described as dermographism. The material is more durable than flesh, takes longer to decompose, presents a more stable appearance, and you can find solace in it. I don't want you to throw it away. May I reuse?

Slow mouse movements, removing what is in the background. Not less important, no, but secondary. What slides out is the body, its shape and structure as a stone, as a fragile stone, which I squeeze in desire, and at the same time lift and passionately tear away.

The landscape now is elsewhere, in another place, outside the city. Here, in Warsaw, the body remains. Not its meat, but its chemistry, porosity, transformability, story, structure, virtuality, tangibility. Replacements, repairs and collisions. It is, in a sense, a return to the city I left long ago. A long circle. A circle around what?



Martyna Miller w swojej instalacji wraca do różnych momentów utraty kontroli, aby zbadać ich mechanikę. Wypadki drogowe, relacje z maszynami w fabryce męża, okresy życia w samochodzie, to niektóre ze wspomnień, z których czerpie budując tę wystawę. Charakterystycznie dla swojej praktyki skupia się na pamięci i ciele. Pracując z osobistymi archiwami, usuwa z przestrzeni wszelkie konteksty, tworząc krajobraz wchodzący w głębię ciała, jego stanów i ontologii.




Podczas wernisażu odbędzie się czytanie performatywne poniższego tekstu (w języku polskim), dla tych, którzy dołączą niezależnie, zapewniamy czytanie artystki w języku polskim i angielskim.





Zaczęło się od telefonu. Telefonu w samochodzie. Nie pamiętam gdzie to było. 2018 rok. Słońce. Błażej odsłuchuje zaległe wiadomości na systemie głośnomówiącym. Z ich szumu wydobywa się nagle silny męski głos, z egzotycznym akcentem, ale także trochę niemieckim, który po angielsku pyta: "You have, I want, I buy, Muller Martini". Spojrzeliśmy po sobie: ja z przerażeniem, Błażej początkowo zdziwiony i wymijający. Transakcja handlowa, sprzedajemy maszynę.

Przez mózg w pędzie przebiegały różne myśli, jakby przytrzymując ciało w zastygnięciu i bezruchu. Ciało-kamień, ciało-stal w wewnętrznym drżeniu, przeszyciu, niuzasadnionym poczuciu utraty i szoku. Po chwili nagranie skończyło się, a Błażej roześmiał nerwowo, widząc, że rzeczywistość na moment zagięła się w groteskową, absurdalną spiralę. Wystarczyła chwila i byłam tą maszyną.

Weszłam w stan znany mi bardzo dobrze. Oswojony do tego stopnia, że w zasadzie informujący o tym, że wciąż żyję. Żyję jako rzecz, lub raczej mechanizm, którego funkcje mnie obezwładniają, wprowadzają w ruch i bezruch jednocześnie. Zerwany łańcuch, zatarty silnik, przegrzane okablowanie, wymuszone przejście w stan spoczynku. Limbo zerwanych połączeń nerwowych, mrowienie w mięśniach, beton pod czaszką.

Moja codzienność. Zdystansować się wobec ciała, jego odczuć, unieruchomić, przetrwać. Uodpornić na ból, zmęczenie, brak komfortu. Nigdy nie znać bezpieczeństwa. Scalić miłość z przemocą, uwagę z nadużyciem, obecność z wysiłkiem, słońce ze zmaganiem. Bez przerwy szukać nieistniejącego ukojenia. Jak jaszczurka w słońcu, która jeszcze przed chwilą zdawała się relaksować, ale w rzeczywistości udaje nieobecność, unicestwia się, symuluje śmierć. Skutecznie.

Mechanizm praktykowany tak długo, że staje się zasadą funkcjonowania, podstawą odczuwania, fundamentem relacji. W samotności często nawet nieodczuwalny. Perfekcyjnie zlany z całym moim światem. Po wyjściu przez okno z martwej Hondy, kiedy stanęłam na ulicy w deszczu, nie czułam nic. Otrząsnęłam się jak pies po kąpieli i ruszyłam dalej. Nic nie miało miejsca. Niby nic, a życie mimowolnie przyspiesza. Koncert, Lipsk, spóźniony powrót, ślub, pogrzeb przyjaciela w Sarajewie, spanie w jego pokoju, gdzie kręciliśmy mój pierwszy film. Wszystko wydarzyło się w następnych dwóch tygodniach. Jak zwierzę, które w sytuacji traumatycznego wydarzenia, biegnie i wytrząsa stres w prędkości tak długo, aż ten zniknie.

Z biegiem czasu, nie mogąc pogodzić się z łatwością, z jaką uśmierciłam moją maszynę – schronienie, jedyną wyobrażalną własność, jedyną ulgę w trawiącej mnie sieci niekontrolowanych zależności – odszukałam i powlokłam za sobą wylinkę samochodu. Odnalazłam ją we snach. I wlokę do dziś.

Razem z maszynami pękają nasze serca. To one pierwsze orientuję się, że nie ma jasnej granicy pomiędzy nimi i nami. Jesteśmy mechanizmem, konstelacją, roztworem chemicznym, jesteśmy wodą. Czy samochód jest wodą? Samochód i woda to scena zbyt dramatyczna, scena filmowa, a może kiczowata. Samochód wpada do wody i powoli opada, to bardzo śmieszne. Obraz bezradności. Jeśli jednak cięcie montażowe ujawni, co dzieje się w środku, widzimy horror zatapiania i paniki.

Kiedy jednak pomyślimy o detalu, o np. rurze, która wprawia coś w ruch, wówczas woda przemieni ją w obraz mocy, żywotną żyłę. Będzie to opowieść o przepływie, rytmie, tempie, tętnie i dźwięku, który to wszystko powołuje do życia, do działania. Płyny, sieci, żyły, akumulatory. Silnik. motor, motywacja, prędkość. Zbyt szybka, szybkość to broń, jednocześnie defensywna i ofensywna, prędkość nienaturalna, nadnaturalna, przewracająca flaki, rozedrgująca ciała, nasilająca lęk, ale jakże przyspieszająca marzenia, jakże robiąca zasięgi, jak przybliżająca wyobrażenie wolności.

Dochodzi do tego kwestia produktu, produkcji lub użycia, w którą wchodzą także takie kategorie jak symbioza, protetyka, a dalej wsparcie, uzbrojenie czy zepsucie. Przydatność i starzenie, użyteczność i życie. Nie kwestie władzy, lecz skali i możliwości współpracy, intencji.

Dochodzi do tego kwestia ekologii. Na poziomie konsumpcji rachunek jest prosty. Na poziomie produkcji, zarówno maszyny, jak i ludzie są apex predators – możemy niszczyć i budować, używać lub zużywać, zażynać. Jesteśmy wszędzie i jest nas dużo.

Wydaje się, że aktualnie maszyny strategicznie mają łatwiejszą i bardziej skuteczną drogę edukacji, a przynajmniej uwaga publiczna kieruje się w stronę obserwacji nie ludzi, lecz maszyn. To one realizują dobrze znaną i bliską mi utopię o kolektywności, wzajemności i przekazywaniu wiedzy. Ponadto nie są obarczone familializmem, mogą pragnąć w nieskończoność.

Operujemy w niekończoncych się systemach, jesteśmy nimi, tworzymy je. Chciałabym dla siebie, przestać ich przeciwstawiać, a przytulić.

Odzyskiwanie kontroli to proces żmudny i niewdzięczny, na każdym kroku odruchy bezwarunkowe, nawyki cięższe niż ruiny rodzinnego domu. Mechanizm jest aktywny jak wirus, stale szukam narzędzi do jego obsługiwania.

Kwestie ciała i materii nie są oddzielne, są połączone. Kiedy czujesz się wodą, wszystko płynie, dryfuje niesione niekończącym się ruchem fal. I wtedy chcesz przytrzymać kamień, rzucić kotwicę. Kiedy tyle utracisz, to co znajdziesz, chcesz zabrać do grobu. Tym samym tworzę go sobie teraz i tu. Każdy kawałek staje się lustrem, każde pęknięcie blizną, którą muszę otoczyć opieką. Blizną podobną do moich z brzucha, piersi, ramienia, z kolana, łokcia, brody, spod skóry i z naskórka, który przez te wszystkie lata nabrał specjalnych właściwości obronnych: reaguje na każdy dotyk, na każdy bodziec reakcją opisywaną jako dermografizm. Materiał jest trwalszy niż ciało, dłużej się rozkłada, stabilniej prezentuje, w nim można znaleźć ukojenie. Nie chcę, byś go wyrzucał. Czy mogę wziąć?

Powolne ruchy myszką, usuwanie tego, co na drugim planie. Nie drugorzędne, nie, ale na drugim. Wysuwa się ciało, jego kształt i struktura jako kamień, jako kruchy kamień, który ściskam w pragnieniu, a jednocześnie unoszę i namiętnie odrywam.

Krajobraz usuwam nie dlatego, że nie jest ważny. Krajobraz teraz jest gdzie indziej, w innym miejscu, poza miastem. Tu, w Warszawie, zostaje ciało. Nie jego mięso, a chemia, porowatość, transformowalność, opowieść, struktura, wirtualność, namacalność. Wymiany, naprawy i zderzenia. Jest to w pewnym sensie powrót do miasta, które dawno temu opuściłam. Długo zataczane koło. Koło wokół czego?