PSYCHODZIAŁKA: Daniela Weiss





Making Space Residency: Psychodziałka | 26.08-27.08.22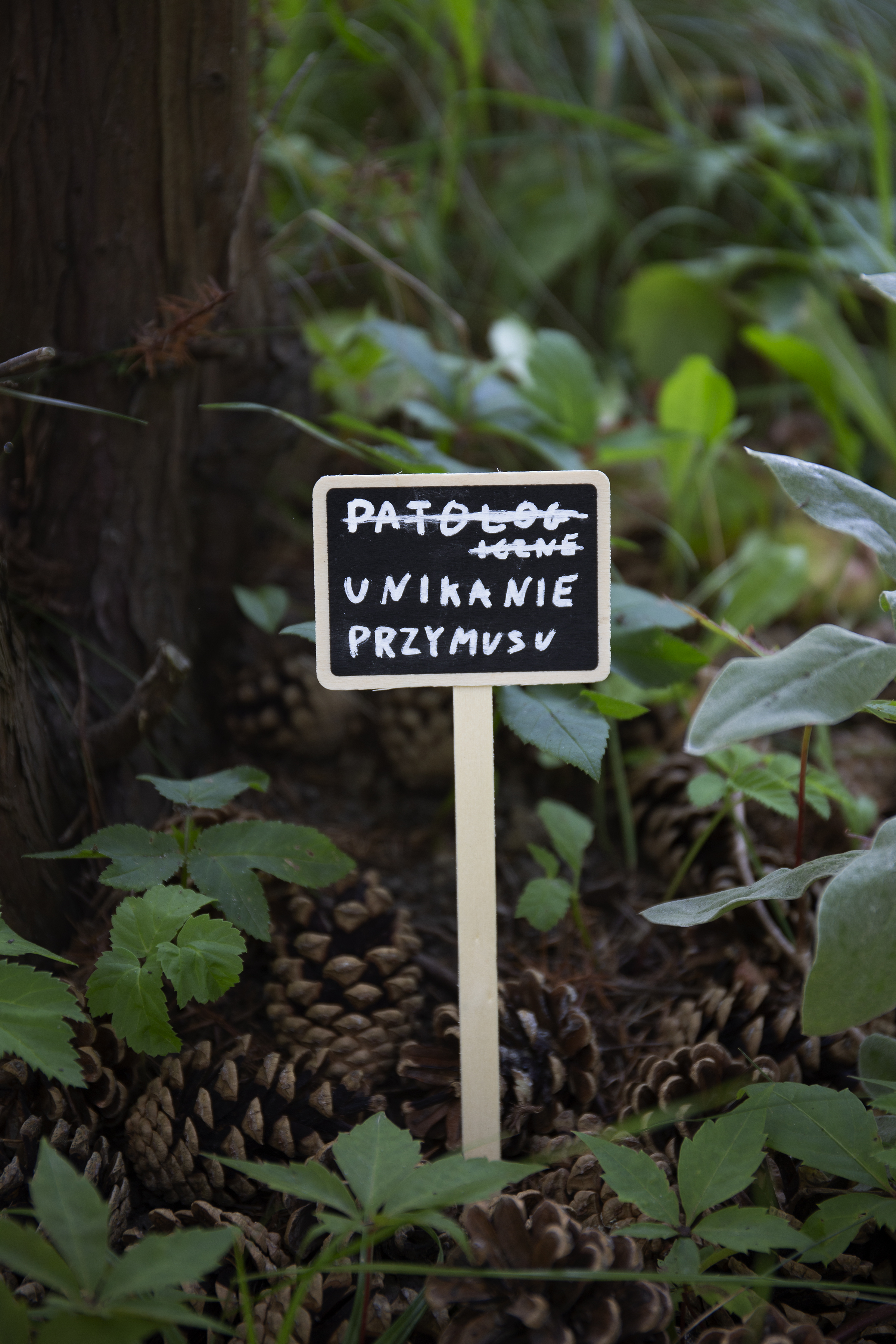 Over the course of a month-long residency that took place in two allotment gardens in Warsaw, artist Daniela Weiss has sought to examine the garden-as-site for research into her experience with disability, utilizing the elements surrounding her as info-spaces for hyper-focused automatic writing. This project, Psychodziałka, comes as part of a much larger and fuller journey for Daniela, that began before this residency and which will continue long after, as Daniela's own struggles with mental health is the driving force for this long-term, chaotic, research-based path. In the gardens, Daniela has spent time observing, being still, in an "anti-productive" process; writing, making new connections, and finding a rhythm for her creative energies.

Some of the questions she has posed have become situated as provocations within Psychodziałka, and are what we invite you to explore along with us on Friday and Saturday. The form of this proposition is intended to help us see the potential in spaces like gardens for spending time together, in the seeking of balance in a bio-neuro-socio-diverse world, where people will be able to share their experiences and methods, casually debate, and create a space for manifesting psycho-disability, which is lacking in Polish discourse. With moments, including drinking tea made from the lemon balm grown in the garden, we will be given a window into, and possibility to collaborate alongside, Daniela's experiences and thought-lines.

ACCESSIBILITY: We strive to make allotment gardens open to everyone. However, at present ROD Obronców Pokoju is not fully architecturally accessible. We would like to point out that it can be difficult to move a wheelchair around the gardens and the plot itself - the gate (75 cm wide) and paths in the plot are narrow, and in some places there is no paved surface. There is an accessible toilet in the gardens. Please let us know about your needs and we will do our best to meet them. We can provide you with:- support in getting to the site / pick up from the nearby bus stop- live audio description- resting place and noise-canceling headphones- assistance during the tour.


This residency, Making Space: Accessibility, Art, and the Allotment, has been hosted between Naprzod działki (an initiative of SAM Rozkwit) and Stroboskop, and was aimed at inviting an artist to reflect disability in the allotment, and the garden as a site for critical art making and experiencing. The project has been funded by The Greenery Department and has been organized with the guidance and collaboration of WIELOZMYSŁY Foundation for Accessible Visual Culture, and with the support of consultants Dorota Kotas and Daniel Kotowski.



---



W trakcie miesięcznej rezydencji, która miała miejsce w dwóch warszawskich ogródkach działkowych, Daniela Weiss starała się potraktować ogród jako miejsce do obserwacji swoich doświadczeń związanych z psycho-niepełnosprawnością; czerpiąc z otaczających ją elementów jako kontekstów do późniejszego przetwórstwa - w hiperfokusie (ADHD) w ostatnim tygodniu miała z tyłu głowy długotrwałe, chaotyczne poszukiwania związane z psychodyskursem.

W ogrodach artystka spędziła czas na doświadczaniu, byciu w bezruchu, w procesie "antyproduktywnym", pisaniu, nawiązywaniu nowych połączeń i odnajdywaniu rytmu dla swojej codzienności. W ramach Psychodziałki niektóre z powsadzanych przez nią treści mogą w nas kiełkować. To właśnie do ich zgłębiania zapraszamy Was w piątek i sobotę.
Propozycja ta ma pomóc dostrzec potencjał w przestrzeniach takich, jak ogrody, do wspólnego spędzania czasu, poszukiwania równowagi w bio-neuro-socjo-różnorodnym świecie, gdzie wszyscy niezobowiązująco będą mogli podzielić się swoimi doświadczeniami i sposobami, podyskutować, a także stworzyć przestrzeń do manifestowania niesłyszanego w polskim dyskursie pojęcia psycho-niepełnosprawności. W trakcie wydarzenia zachęcamy do odpoczywania na kozetkach/kocykach, picia herbaty z melisy uprawianej w ogrodzie i zatrzymania się z nami na dłużej.

DOSTĘPNOŚĆ:
Dążymy do tego, aby ogrody działkowe były otwarte dla wszystkich. Jednak obecnie ROD im. Obrońców Pokoju nie są w pełni dostępne architektonicznie. Zwracamy uwagę, że poruszanie się na wózku po terenie ogrodu i samej działce może być trudne - furtka (szer. 75 cm) i ścieżki na działce są wąskie, w niektórych miejscach brakuje utwardzonej powierzchni. Na terenie ogrodów znajduje się dostępna toaleta.
Prosimy poinformujcie nas o swoich potrzebach, a my dołożymy wszelkich starań, aby je spełnić.Możemy zapewnić Wam:
- wsparcie w dotarciu na miejsce / odebranie z okolicznego przystanku
- audiodeskrypcje na żywo
- miejsce do odpoczynku i słuchawki wyciszające
- asystę podczas zwiedzania


Rezydencja zorganizowana przez SAM Rozkwit i Stroboskop miała na celu zaproszenie artystki/artysty do refleksji nad niepełnosprawnością w ogrodzie działkowym oraz nad ogrodem jako miejscem krytycznego tworzenia i doświadczania sztuki. Projekt jest częścią programu "Naprzód działki" realizowanego na zlecenie Zarządu Zieleni m. st. Warszawy i został zorganizowany przy współpracy z Fundacją Dostępnej Kultury Wizualnej Wielozmysły oraz przy wsparciu konsultantów Doroty Kotas i Daniela Kotowskiego.